Dr. Diane Howard's Current Professional Project Samples
Dr. Diane Howard is currently producing, directing, and hosting a new Digital TV Channel, Shining Light, for the United Methodist Church of Temple, TX. Further, she continues as a professional interviewer for principals (producers, directors, actors, writers and more) for leading redemptive movies. Furthermore, she is an ongoing writer for many journalistic outlets (see the top of each page on this website).
Dr. Diane Howard's Past Professional Project Samples
Dr. Diane Howard has collaborated, provided instruction, and produced projects and programs for the following: corporations; churches; educational institutions; Christian, civic, and media organizations… for on-site presentations or distance ones via Web sites, television, videoconferencing, television, digital platforms and more. She has been deliberately inclusive of multi-cultural projects and programs that have involved minority group history, literature, and performances. Highly motivated by her own ongoing scholarship, she has highlighted specific role models who have demonstrated motivational power on observers towards positive, constructive change and good.
Disney Internship Program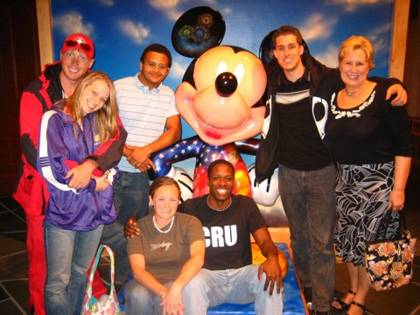 Dr. Diane Howard has organized and supervised the Disney internship program at the University of Mary-Hardin Baylor for ten years.
Training, College Credit & Paid Internships
Disney internships open doors to stable and consistent opportunities for advancement in a major, international company, which values what is important to the intern/employee.
All Disney interns have access to college courses, workshops, seminars, auditions, and valuable meetings, while they serve and receive training/mentoring at Disney World. After an internship, students in good standing in the Disney College Program may apply for seasonal Disney work, advanced internships, further employment, and various educational opportunities.
The Disney College Program provides 5-7 month, paid internships in Disney World. It offers students hands-on experience in the Disney Industry. It provides networking opportunities with Disney executives and opportunities for Disney careers in the future. While on the program, students can earn college credit at undergraduate and graduate levels. Disney interns may take classes and workshops instructed by Disney World executives. The internships are in the following areas: Attractions, Operations, Guest Services, Marketing, Communications, Entertainment, Hospitality, Vacation Planning, Imagineering, and many more.
Disney was recently voted as the
#1 most respectable company in entertainment by Fortune 500
.
Disney College Program
,
 E-Presentation
,
Roles (Jobs)
Graduate College Credit-
Disney College Program participants may apply to the University of West Florida's Learn, Earn, and Lead Certificate Program. They may earn six graduate credit semester hours that can be applied toward the online Master of Science in Administration program offered by the University of West Florida.
For more information about enrolling in this limited opportunity certificate program, contact Dr. Janet Pilcher, jpilcher@uwf.edu
Disney Professional Internships
,
 International Programs
,
Careers
Videoconference & Webcast Collaborations
To produce programming for videoconferences & webcasts, Dr. Diane Howard has partnered with corporations and organizations such as the following: Apple Corp., BellNet (Texas videoconference network), TCEA (Texas Computer Education Association), and Connect2Texas.
Apple Corp- Diane Howard has produced, directed, and performed performances of historical autobiographies.
BellNet- Dr. Howard has produced, directed, and presented videoconference performances of autobiography and poetry. She has conducted research for BellNet on the power of role models. She has produced an interactive educational Web site, Break the Wall, for students related to overcoming addictions. She has conducted peer-mentoring workshops for BellNet.
She has been involved in grant writing for BellNet.
TCEA- Dr. Howard has provided programs in the following areas: Peer-Mentoring
Performances of Autobiography, Performances of Poetry, Researching Primary Sources Via the Internet
Connect2Texas- Dr. Diane Howard has produced television programs at KPLE TV for the Connect2Texas videoconferencing system.
Television Programs
Dr. Howard has produced, directed, and been on-camera talent for programs for KNCT, a PBS station in Killen, TX; Connect2Texas, an educational television network in Texas; Channel 16, a public access television station in Austin, Texas; KPLE, Channel 45/31, television station in Killeen, TX; and has provided many interviews for local stations of national networks.
KNCT- Dr. Howard has provided interviews about the state of filmmaking in the U.S and has served with on-camera fund-raising.
Connect2Texas- Dr. Diane Howard has produced, directed, and moderated educational programs and performances of the following: Shakespearean plays, classic poetry, autobiographical performances from the Holocaust, panels on overcoming disabilities, resilience of soldiers…
Channel 16- Diane Howard has produced, directed, and provided on-camera instruction for Texas Nafas, educational poetry channel.
KPLE- Dr. Howard has provided interviews of the redemptive filmmaking in the U.S. and has provided consultation for the station.
Pentagon Channel- Dr. Diane Howard has produced and presented programs and interviews for the Ft. Hood affiliate of equal opportunity programs.
KXXV
(ABC affiliate),
KWTX-TV
(CBS affiliate), KCEN (NBC affiliate)- interviews related to productions Dr. Howard has produced, directed, or performed in.
Ethnic Projects
Dr. Howard has produced, directed and performed in ethnic projects for educational institutions, churches, and civic organizations. These projects have included multi-cultural performances of music, theater, autobiography, and poetry.